===>Anti-racism protests in London and Paris[field]===>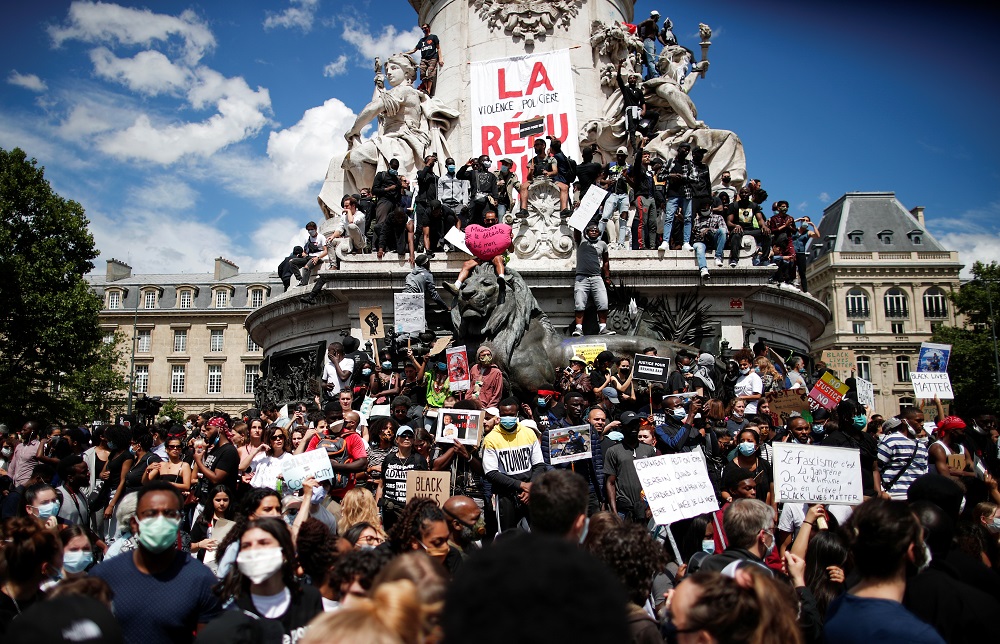 Demonstrators attend a protest against police brutality and the death in Minneapolis police custody of George Floyd, at the Place de la Republique in Paris on Saturday. [BENOIT TESSIER/REUTERS]
Anger over death of George Floyd in US felt on streets of UK and France
LONDON-The British and the French capitals were rocked on Saturday by anti-racism protests sparked by the killing of the African American George Floyd in the US city of Minneapolis on May 25.
In London, thousands of protesters countering the anti-racism demonstrations assembled in and around Parliament Square despite coronavirus restriction orders. Police said they arrested more than 100 people after the protesters clashed with officers.
A crowd of demonstrators converged on Parliament Square, before moving to Trafalgar Square and other areas in central London on Saturday to "guard" statues as part of counter-protests against anti-racism demonstrations.
Among those gathered was Paul Golding, leader of the far-right group Britain First, who had called on supporters to descend on London while claiming authorities had "allowed vandalism against national monuments".
The protests then turned violent, with demonstrators pelting bottles and at least one smoke bomb at police on foot and on horseback. Chants of "England" rang out around the Whitehall road.
Six police officers and at least 13 other members of the public were injured during the protests, and six of them were taken to hospital, the ambulance service said.
"Millions of Londoners will have been disgusted by the shameful scenes of violence, desecration and racism displayed by the right-wing extremists who gathered in our city today," London Mayor Sadiq Khan wrote on Twitter.
Prime Minister Boris Johnson also condemned the violence on Twitter, posting, "Racist thuggery has no place on our streets. Anyone attacking the police will be met with full force of the law."
The latest protests took place after a series of anti-racism demonstrations across Britain, sparked by the death of Floyd.
In Paris, riot police fired tear gas on Saturday to disperse a largely peaceful but unauthorized protest against police brutality and entrenched racism, as France's minorities increasingly push back against a national doctrine of colorblindness that has failed to eradicate discrimination.
At least 15,000 people rallied in Paris, led by supporters of Adama Traore, a French black man who died in police custody in 2016 in circumstances that remain unclear despite four years of back-and-forth autopsies. No one has been charged over his death.
Review of curriculum
In the wake of the global response to the "Black Lives Matter" movement, a cross-party group of members of Parliament has written to British Education Secretary Gavin Williamson calling for a review of the national curriculum led by people from ethnic minorities to better reflect black history.
"We all have a duty to make sure the next generation, at least, has a better understanding of the historical injustices contributing to institutional racism that persists in the UK and elsewhere today," said Layla Moran, education spokesperson for the Liberal Democrat party.
Mary Bousted of the National Education Union backed the suggestion. "We must improve the curriculum so that students learn about how Britain was founded on global histories," she said.
Louise Richardson, the vice-chancellor of Oxford University, has said "hiding our history is not the route to enlightenment" as the row over Oriel College's statue of 19th century British businessman Cecil Rhodes continued.
Oriel alumnus Rhodes was a prominent figure in British imperialism in Africa, and in recent years his racial views and reputation have been questioned.
In 2015 the Rhodes Must Fall movement had his statue removed from Cape Town University in South Africa, and a similar movement in Oxford has gathered strength in the current climate.
"We need to understand this history and understand the context in which it was made and why it was that people believed then as they did," Richardson told the BBC.
"This university has been around for 900 years. For 800 of those years the people who ran the university didn't think women were worthy of an education. Should we denounce those people?
"Personally, no-I think they were wrong, but they have to be judged by the context of their time."
Julian Shea in London and agencies contributed to this story.